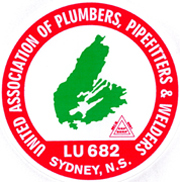 Our History and Purpose
UA Local 682's charter was applied for on November 4th, 1946 and showed that 28
members were from the Sydney area. Although the prime movers for unionism were
the workers, local contractors were also involved. With a union local in place, the
construction trade would result in more profit for local companies and additional
employment for local workers. UA Local 682's charter was signed on November 23,
1946. Our charter was delivered on the evening of December 14, 1946 and coincided
the first UA Local 682 executive being formed.

In 1963 an organized bargaining structure was put in place and union representation was
able to meet with representatives of the contractors in a formal setting.

When the Cape Breton Island Building and Construction Trades Council was chartered
on June 2, 1967. Local 682 was a founding member and has been a strong supporter
until the present day.

Collective Bargaining evolved from Multi Trade Project Agreements in the Late 1960's
to mid 1970's when Local 682 became part of both Multi Trade Commercial &
Industrial Building Trades Agreements unique to Cape Breton Island.

The Multi Trade Commercial and Industrial Agreements signed by the affiliates of the
council insures that Local 682's market share remains at almost 100% on Industrial Work
and at about 90% on Commercial & Institutional Work.



Contact us by email: ualocal682@seascape.ns.ca